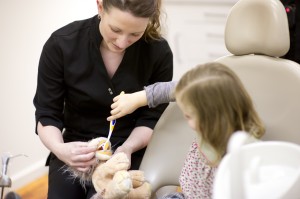 Oral care and hygiene is very important in childhood in order to maintain and develop healthy teeth and gums, and just as important is to establish a positive approach to visiting the dentist.
Dentalspa is a Geelong dentist dedicated to childrens dentistry and them having a positive experience at the dentist. You can confidently schedule your child's dental check up with us knowing they are going to get the best care for their teeth.
Make the most of school holidays and give your children the opportunity to have another fun school holiday activity.  That's right, going to the dentist can be fun, and is when you visit Dentalspa.
Come and experience our playroom which has been designed especially for your children and their comfort.  Children can play games on the computers, watch a great kids show on a nice TV, play games with our variety of toys and have fun with other exciting entertainment activities whilst our dental professionals are getting ready to see you.
As you children play sport throughout the year – AFL, Soccer, Swimming,Tennis and all sorts of other sports – don't forget the importance of a sports mouthguard.  We can fit your child with their own mouth guard, and they can then play their favourite sport without them (or your!) worrying about knocking out or damaging teeth.  The holidays present a great opportunity to get this sorted before getting back into sport next term.
There are few appointments available during school holidays so hurry up and don't miss out!  Contact us at Dentalspa, a local friendly dentist in Geelong to make an appointment for your child or children or make enquiries about other preventative dental treatments.
Return to blog